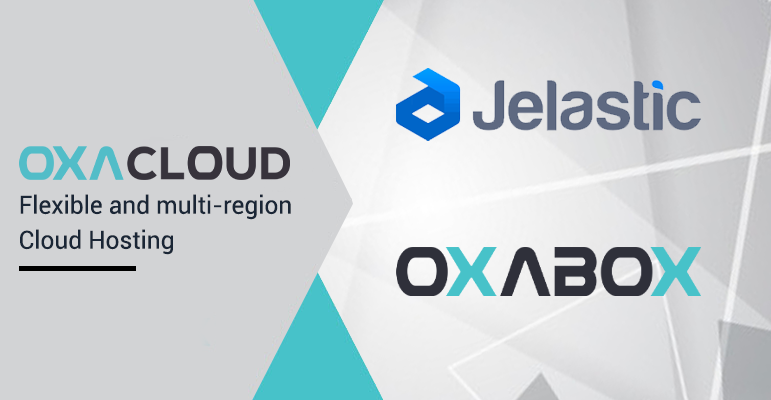 Jelastic and OXABOX Launch OxaCloud for Flexible Cloud Hosting in France and Tunisia
Jelastic, Inc., a software company that provides a Multi-Cloud DevOps PaaS for application deployment and management, strengthens its position in France and Tunisia with a new hosting partner OXABOX by launching OxaCloud. OXABOX is a Cloud solutions provider that offers innovative products and services focused on IaaS, PaaS and SaaS for businesses of all sizes.
"We are delighted to provide this new service for our current customers, as well as across all African and French markets. OxaCloud is a new-generation PaaS that allows companies to develop their projects faster and more efficiently in the Cloud," said HATEM ABDENNADHER, CEO of OXABOX.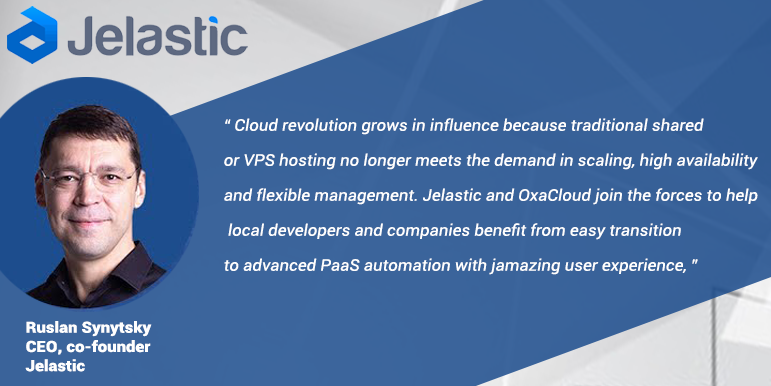 Combining multi-region infrastructure and innovative technology, OXABOX deployed powerful and comprehensive Jelastic PaaS in its datacenters in Tunisia and France to offer its clients an easy access for developing, testing and deploying cloud-based applications.
OxaCloud, powered by Jelastic, allows IT consultants, software developers and system integrators to fully focus on the development of their applications as setup and configuration phases can be managed with extreme simplicity. This PaaS solution is ideal for applications having variable needs in ressources. It enables scalability, high availability and automated management of load peaks with pay-as-you-use model. OxaCloud provides several features, such as:
Vertical and horizontal auto-scaling

Intuitive application topology wizard

Zero downtime deployment with automated traffic distribution

One-click installation for popular applications

Easy creation of dev, test, production environments

Integrated CI and CD tools for automation

Multi-region availability
Also, during these difficult times of confinement, OXABOX helps companies of all sizes respond to the challenges of remote work. Various open source collaborative tools are available for an immediate deployment on its multi-region cloud platform: video conferencing, document management system, e-learning platform, and others.
Jelastic and OXABOX will work closely to ensure that their customers can gain faster deployment, automated management, and easy scaling, having routine configuration tasks covered by default. For more information and free trial period, please visit: https://www.oxabox.co.uk/en/oxa-cloud-jelastic/
About Jelastic

Jelastic is a Multi-Cloud DevOps PaaS for ISVs, telcos, hosting providers and enterprises needing to speed up development, reduce cost of IT infrastructure, improve uptime and security to increase projects performance and profit. The platform combines the benefits of PaaS and CaaS in a single turnkey package. Its rich interface simplifies complex cloud deployments by automating the creation, scaling, clustering and security updates of microservices or monolithic applications. Jelastic has a unique pay-as-you-use pricing model and is available as public, private, hybrid and multi-cloud in more than 70 data centers worldwide. The platform provides support of Java, PHP, Ruby, Node.js, Python, .NET, Go environments and custom Docker containers. More info is at https://jelastic.com 
About OXABOX
Specialist in cloud and internet infrastructures, OXABOX offers innovative solutions and platforms based on Cloud architectures. It covers the EMENA region with its presence in Tunisia, France and the UK.
Since its foundation in 2010, OXABOX has established itself as an essential partner for professionals and companies in the IT ecosystem. Many prestigious customers show us their confidence and we are proud of it. This success is due to a development model based on innovation and a full control of the service chain. 
Today, OXABOX is proud to host websites and critical applications of radio stations, TV channels, financial companies, telecom providers, News portals, e-commerce stores and many more. It assists them in managing their IT projects with different solutions adapted to their needs and budgets. For more information, visit www.oxabox.com.