Simplify SSL/TLS server configuration to a single IP address
Wildcard SSL Certificate saves your time and money from managing separate SSL certificate for each sub-domain, our Wildcard SSL certificates can secure your fully qualified domain name and its all sub-domains. If you request the Wildcard SSL protocol for * .yoursite.com, you can secure an unlimited number of subdomains with one protection. As: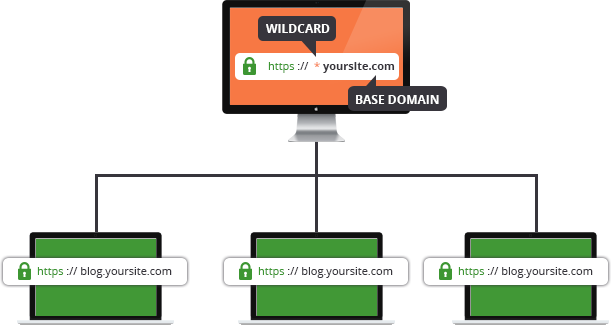 The best Wildcard SSL certificates that meet your needs and expectations
Each certificate comes with unlimited server licensing included in the price – meaning you are free to install it on as many physical servers as you wish.
Benefits of Wildcard SSL certificates
Best combination of flexibility, compatibility, and value
Centralized Administration
When you buy a single wildcard SSL, it will cover all sub-domains under one roof. Just keep track of one SSL certificate and get rid from multiple SSL management. Save time and money with WILDCARD SSL CERTIFICATES

Easy ssl renewal
Separate SSL renewal will take more time in installation and will cost more money. While, renewing a single wildcard SSL with less price, time and management that will keep all sub-domains secure.
Improved Search Rankings
When you buy a single wildcard SSL, it will cover Websites protected with SSL on every page receive a more favorable search ranking in Google

Established Browser Trust
Avoid browser error messages and prevent your customers from seeing annoying trust dialogs
Contact
Want to learn more about WILD SSL CERTICATES?
Talk to our experts to see how WILD SSL CERTICATES can benefit your business.