The most reliable and easy-to-use backup solution for businesses of all sizes
Acronis Backup Cloud protects a many platforms and incorporates the backup industry's most advanced anti-ransomware technology, safeguarding data and systems in any environment: physical or virtualized, on-premises or in the cloud.
Acronis Backup Cloud lets you quickly realize incremental revenues with zero upfront costs and a pay-as-you-go business model.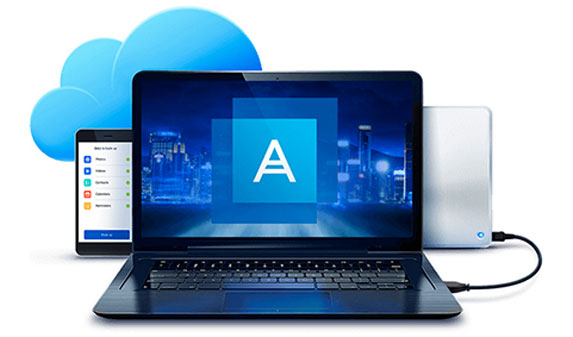 Why do you need cloud backup?
Have peace of mind knowing that your files are safely backed up to the cloud. Equipped with innovative security features, Acronis Backup sets a high bar for next-generation data protection. it preserves data with a simple, affordable and versatile solution.

Proactive protection
against ransomware
Avoid downtime by actively protecting files against unauthorized changes and / or encryption. Acronis Active Protection uses artificial intelligence, machine learning technologies, and the whitelist to protect your data.
Instant Restore
Manage your recovery time goals and minimize process disruptions in seconds, while maintaining overall business productivity with our unique runVM technology.
Full Protection
Safeguard your infrastructure and data securely, whether you're faced with growing data volumes, adopting new business processes, or migrating to new applications, platforms, or the cloud
Notarisation Blockchain
Ensure data integrity with our innovative string chain-based Acronis Notary technology, which prevents damage or corruption to your files by attacks targeting archive files.
Incomparable simplicity
Save on licensing, education, integration and day-to-day operations with a simple, scalable tool that handles all data protection tasks. Our easy-to-learn solution protects data with less effort, so general IT staff can perform backup tasks efficiently.
Hybrid cloud architecture
Manage all forms of data protection in a single workflow through a centralized management interface and a unified control interface. Back up any type of storage and easily restore any data with minimal downtime.
Fast, powerful, integrated
Backup-as-a-Service puts
you in control
Leveraging the power of the Acronis AnyData
Engine, Acronis BaaS delivers a highly
customized, complete, and reliable service
that backs up data from any source and
recovers to any destination and system.
Support an Increasing Number of Use Cases
The Acronis Backup solution offers a per-use business model with zero entry costs. This eliminates any upfront investment so you can get to market quicker and grow your business faster.
protect workload
Cloud
cloud vms
Office 365
Websites
On-Premises
Physical
Virtual
Applications
Mobile
Buckup to any storage
Cloud
Acronis Cloud Storage
Google Cloud, Azure, AWS
Your data center
Third-party cloud storage
On-Premises
Acronis Storage
Local disks
NAS, SAN
Contact
Want to learn more about ACRONIS BACKUP CLOUD?
Talk to our experts to see how ACRONIS BACKUP CLOUD can benefit your business.