Work smarter, anywhere, with hosted email for business, With Microsoft's professional email solution
Exchange Online is a hosted messaging application that provides organizations with access to the full-featured version of Exchange Server.
Empower your team to communicate almost whenever and wherever they want by accessing email, calendar, contacts and tasks across compatible PCs and web and mobile devices.
Microsoft® Exchange Online allows your organisation to take advantage of enterprise-grade communications capabilities without the operational burden of on-premises server software.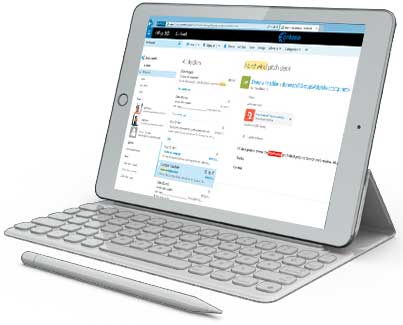 Security and reliability
Exchange Online helps protect your information with advanced capabilities. Anti-malware and anti-spam filtering protects mailboxes. Data loss prevention capabilities prevent users from mistakenly sending sensitive information to unauthorized people. Globally redundant servers, premier disaster recovery capabilities, and a team of security experts monitoring Exchange Online around the clock safeguard your data.
Stay in control
Maintain control over your environment while gaining the advantage of hosting your email on Microsoft servers. Manage your organization efficiently with the Exchange admin center, an easy-to-use, web-based interface. Run In-Place eDiscovery across Exchange, SharePoint, and Skype for Business data from a single interface through the eDiscovery Center. Tooltip with information about availability of running eDiscovery from the eDiscovery Center With mobile device policies, you can create approved mobile device lists, enforce PIN lock, and remove confidential company data from lost phones.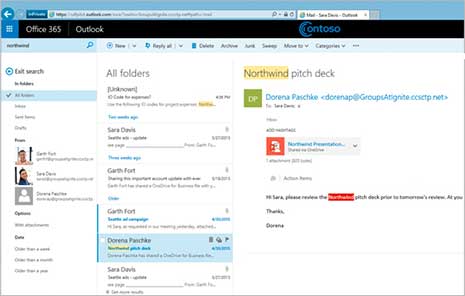 Easy to use and maintain
It's easier than ever to provide your users with the business email they need to stay productive. Automatic patching eliminates the time and effort of maintaining your system. Give your users an In-Place Archive, so they can keep all their important data in one place. And provide them with anywhere access to email, calendar, and contacts on all major browsers and across devices. Integration with Outlook means they'll enjoy a rich, familiar email experience with offline access.
Why choose Office 365 Exchange

Professional email addresses
Your email account configured to your domain name such as yourname@domain-name.ext to give more professionalism to your communications.

Online access
Stay in direct contact with all members of your teams, partners and customers. You can schedule meetings with people outside your office, sharing calendars and all documents with them.
Security and reliability
The latest tools to protect against malicious emails, spam and data loss. Based on redundant servers, services are always ready to deal with new threats.

Stay in touch
The mail and calendar services are accessible wherever you are.
Migrate multiple email accounts to Office 365
Just because you move to the cloud doesn't mean you have to leave your existing email behind.office 365 provides solutions for migration your email.Choose the migration option that meets your goals and quickly gets you to the cloud
Contact
Want to learn more about EXCHANGE ONLINE ?
Talk to our experts to see how EXCHANGE ONLINE can benefit your business.