A SIMPLE, EASY AND SMART WAY TO SET UP A CONFERENCE CALL
Experience a simple, easy and smart way to set up a conference call. With no hidden charges, unlimited calls, and a feature-rich platform which enables one-tap click to join on a smartphone all for one monthly fee, Conference Call by Meetupcall is one of the easiest and best ways to arrange, join and manage meetings in or out of the office.
There's no software to install as each conference call can be managed in real-time on the dashboard from any device. Plus, you'll get meetings in crystal clear HD audio and can enable the system to dial-out to attendees, meaning you'll never have to memorise link and pin codes ever again
Conference Calling
£ 20 /month
Unlimited conference calls within the UK
Integrates with Microsoft Outlook and other calendars
Includes dial-out to the UK, screenshare and call recording features
Self-service administration area to add, remove and manage users
100+ International dial-in numbers in over 70 countries*
One tap dial-in for smartphones
Call Me feature to dial attendees when the meeting begins
*Please note: Accessing calls from international numbers will incur charges as specified by the service provider not included in this service.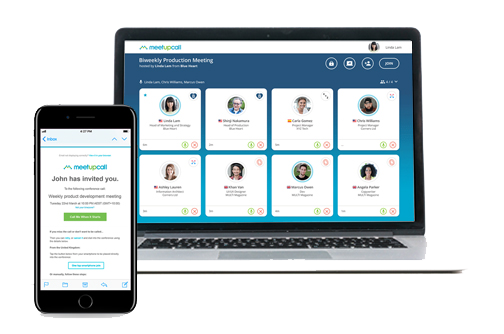 MAKING THE DREAM OF
FLEXIBLE WORKING A REALITY
Conference call comes equipped with a range of innovative features to make the dream of flexible working become a reality. With family commitments, doctors' appointments and other activities that prove difficult to obtain alongside a 9-5 job, the ability to manage your meetings at the touch of a button allows you the freedom and flexibility you need. Create, join and organise meetings whenever, wherever.
THE BENEFITS OF USING CONFERENCE CALL...
HD CALL QUALITY
Crystal clear HD audio with advance background noise filtering
INSTANT CALL RECORDINGS
Record your conference calls at the touch of a button and securely store them for up to a year
CALL ME WHEN IT STARTS
The super smart 'Call Me' feature automatically dials attendees at the start of a meeting, eliminating lengthy waiting times

ONE TAP DIAL-IN
With Conference Call, all it takes is one tap via a smartphone to join the call. Or dial-in the traditional way via a local or international number

EVERYTHING IN ONE PLACE
One dashboard, multiple options. Conference Call allows presenters to add, remove and manage users in real-time
EASY USE SCREENSHARE
The screenshare feature allows attendees to see product demos, presentations and plans – all with one simple click
SECURITY AND COMPLIANCE AT THE FOREFRONT
Meetupcall has taken necessary steps to ensure Conference Call is a GDPR-compliant solution. All data is stored in an EU-based ISO certified data centre to help you comply with legislation and enable you to respond to data deletion requests promptly.
WATCH HOW MEETUPCALL MAKES MEETINGS BETTER
Contact
Want to learn more about MEETUPCALL?
Talk to our experts to see how MEETUPCALL can benefit your business.