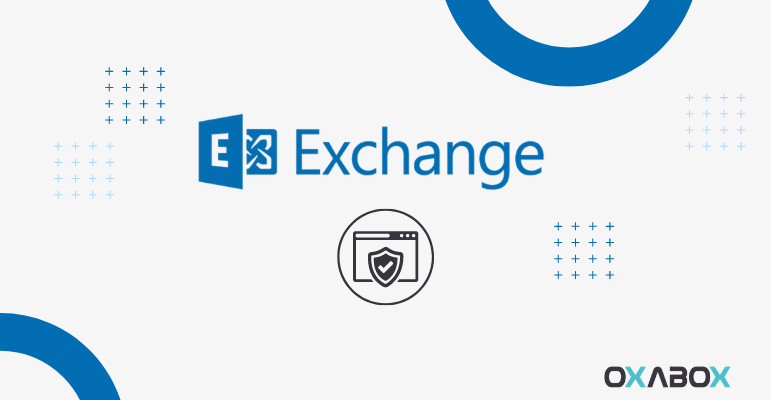 How to install an SSL certificate on MS Exchange
When choosing your SSL certificate, it's better to check with your web host or IT department to make sure you're choosing the right option for your entire business. This article is the fourth and last in a series of articles designed to help you how to install an SSL certificate.
Step 1: Generate a certificate request (CSR)
The first step is to generate a certificate request (CSR) on your server before you can purchase and install an SSL certificate. This file contains public key and keyserver information. It is required to generate the private key
Open the Exchange Management Console. Once the program loads, click on the

"Manage databases"

link located in the center of the window.

Select

"Server Configuration"

. Click on the

"New Exchange Certificate"

link in the

"Actions"

list on the right side of the screen.

Enter a memorable name for the certificate.

Enter your configuration information. Exchange should automatically select the correct services, but if it doesn't, you can configure them yourself. Check that all the services that need to be protected are selected.

Enter your business information: your two-digit country code, state or province, city, business name, department, and domain name.

Enter a location and name for the CSR file that will be generated. Take note of this location, you will need it when ordering the certificate.
After creating the CSR in the MS Exchange 2016 server, you need to order a UCC SSL certificate for your Microsoft Exchange 2016 server, and then submit your CSR generated during the setup process.
step 2: Create a Certificate Snap-in
First, click on

start

button and open

run

window.

Type

MMC

(Microsoft Management Console) and click OK.

You will have the mmc screen, click on

File

in the menu bar and select

Add/Remove Snap-in

.

Now, select

Certificates

in

Add/Remove Snap-in

and click

Add

tab.

Select

Computer Account

and click

Next

button.

Select

Local Computer

and click on

Finish

button

.

In the

Snap-ins list

window, click

Close.

In the

Add/Remove Snap-in

window

,

click

OK
Save

these settings for future.
Step 3: Install the Intermediate CA certificate
Now, from the left panel, Right click on

Intermediate Certificate Authorities

Click on

All Tasks > Import

In the certificate import window, click

Next

button.

Browse

Intermediate certificate

and click

Next

button.

Select

Place all certificates in the following store

and choose

Intermediate Certification Authorities

from

Select Certificate Store

window.

In the

Certificate Import Wizard

window, click

Next

button.

Click

Finish

, Click

OK

Close the

MMC window

, and then click

No

to remove the MMC console settings.
Step  4: Install SSL certificate on MS Exchange 2016
After installing intermediate SSL certificate on MS exchange server 2013 / 2016, you need to install primary SSL certificate on the server for which you can follow below procedure.
Now, access

Exchange Admin Center

and use domain/username and password to log-in.
On the left side of the server screen, click on

Servers

and then click on

Certificates

tab on top of the right side.

You will have a certificate with friendly name, select the certificate (showing pending request) and click on

Complete

on the right side column.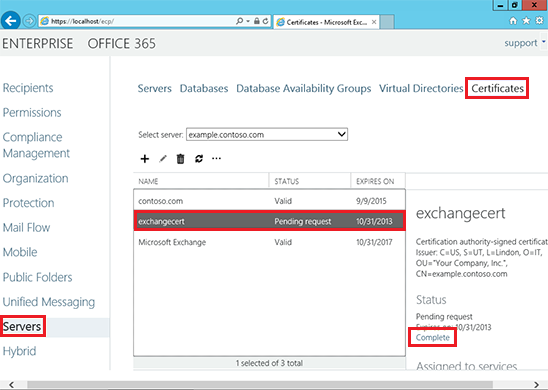 In next screen, enter the

network path

of your located certificate and click on

OK.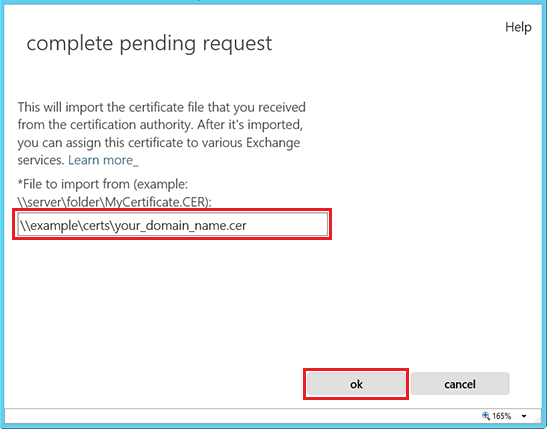 Now, enable the certificate by going back to the certificate section of the Exchange Admin, click on the edit button for highlighted certificate.
You will have a screen where you have to click on

Services

tab on the left side, it will give you options of different services that you wish to enable. Click on

save

button.
See the articles on installing SSL certificates on Microsoft server, Plesk, Apache on the blog of your Oxabox web host.
OXABOX offers you the installation of SSL certificates on apache by our qualified experts. Do not hesitate to contact us.